*FEATURED CLUB*
Smooth Face Cleek by F&A Carrick of Musselburgh

"J Anderson" boldly on the head of a circa 1865-70 dark stained Beech Long Nose Play Club. The neck is long and graceful with original looking splice whippings. The grip is a white "Kid" skin. The face has a leather repair at the toe, which was quite common on clubs from this era. A nice example of a mid to late feather ball era Play Club from a famous club maker. G-7 $2350.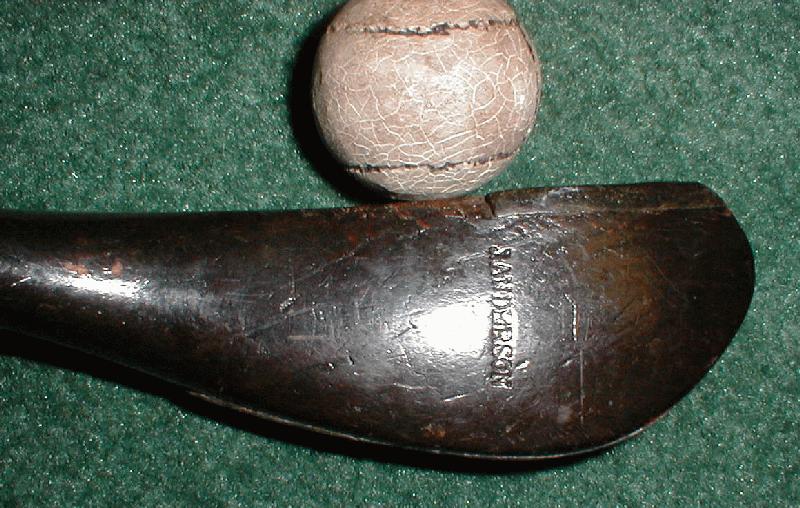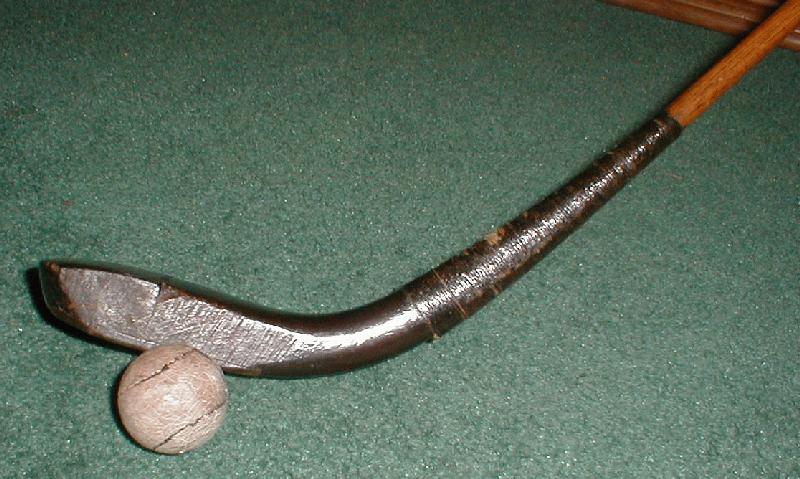 Home | Email Comments / Place Orders | Display Racks | Books | Putters Made In Great Britain | Aluminum Mills Type Mallet Putters | Putters Made In America | Irons Made In Great Britain | Irons Made In America | Sets Of Clubs | Spliced Neck Woods | Anti-Shank Irons | Illegal Deep Groove Irons | Pretty Face Woods | Juvenile Clubs | Brass Head Putters | Signature Clubs | Ladies Clubs | American Socket Woods | Great Britain Socket Woods | Gutta Percha Balls | Bramble Pattern Balls | Odd Pattern Balls | Signature Balls | Mesh Pattern Balls | Misc Ball Related Collectibles | Prints | Misc Golf Collectibles


Copyright 1998 All Rights Reserved
#1 Free Stuff - A fantastic collection of free stuff and freebies. Categories include Health and Beauty, Freeware, Screensavers, and more!
FUN ON THE LINKS
by Chuck Furjanic
Undoubtedly you have heard of Harry Vardon, Bobby Jones, Walter Hagen, Gene Sarazen and maybe Tom Morris or Willie Park. Before legalization of metal shafted clubs in America for the 1926 season, and 1930 in Great Britain, these golf champions of bygone years played with clubs made of hickory, ash, lemonwood, lancewood, greenheart or dangawood.
Today Tiger Woods, Fred Couples, Jack Nicklaus, Brad Faxon and Joe Duffer play with the latest and most technologically advanced titanium, graphite, oversized....on and on and $$$ and $$$!
GOLF IS NOT FUN ANYMORE!!!
Golf has evolved into a mega million dollar promotion deal; $565 drivers, $245 wedges, $450 putters, and $300 for the privilege to hit your ball in the rocks on #8 at Pebble Beach! Gigantic green fees, titanium inserts, titanium heads, titanium shafts, titianium center balls, TITANIUM HEADACHES!!!
What happened to FUN on the links?
Have you ever wondered what it would be like to play golf BEFORE you needed to win the lottery, or own 5,000 shares of IBM to afford one round at Pebble Beach or a set of Titanium woods?
When was the last time you actually FELT the club strike the ball with a little hook spin to get back to the left pin behind the bunker; or hit a low running approach shot to the second level fifty-five yards away? (hey, I paid $245 for that lob wedge, why should I 'run' the ball in?) When was the last time you hit the high 'feathered' shot with the wind or a low boring hook into it? With today's $4,000. set of high-tech clubs you feel embarrassed to 'be a shot maker', or to 'work' the ball. It seems like every club today is designed for Joe Duffer to hit straighter than a laser and longer than John Daly playing down wind!
With my Mashie-niblick I am able hit a low running draw 145 yards, a feathered cut 110 yards, or hit it 130 yards with normal trajectory. I also can use it to pitch and run a shot forty or fifty yards to the green's second level. I actually FEEL the head as it releases at impact and literally FEEL the ball as it is struck and has the spin "I" put on it to draw, fade, be a low riser or high floater. My Jigger can loft a ball as high as a lob wedge to a green up to 150 yards away and also be used around the green to hit chips that run like a putt. My Niblick can slice the ball from those dreaded sand traps, chop it out of the thick rough, or spin the dimples off it from a good lie in the fairway ninety yards from the pin.
I'm talking about hitting seventy-five to one hundred year old HICKORY SHAFTED clubs with wrapped leather grips, dot punched, hyphen or deep groove scored faces. Clubs Francis Ouimet beat Vardon and Ray with in 1913...He carried a grand total of seven! Woods, with real persimmon heads, that go 'swoooosh' and 'whaaaak'; and a putter, with a head made of aluminum, brass or forged steel enabling me to cut a five foot putt into the cross grain to keep it on line.
I'm talking about playing with clubs that are virtually an extention of my hands, arms and shoulders, not my credit card!
No, you don't need to be a +2 handicap and a corporate CEO with 37 platinum credit cards to do these things with a 90 compression balata golf ball. All you need is a desire to have fun on the golf course, and the help of someone who knows how to make up a "Play Set". My personal "set" is comprised of 2 Brassies (2 wood), one for play, the other a spare; a Mid-iron (3 iron), Mashie (5 iron), Jigger (chipper and 'sky-iron' for hitting high 130 to 150 yard shots), Mashie-niblick (8 iron), Niblick (wedge) and a Putter. The irons and putter cost is minimal and the woods... well...they are a lot less that those high tech oversized titanium headache you don't have to buy. Think about it!