SIGNATURE CLUBS
This page archived 1/31/2000. (Listed for reference purposes, only! Most of these listings are probably already sold.)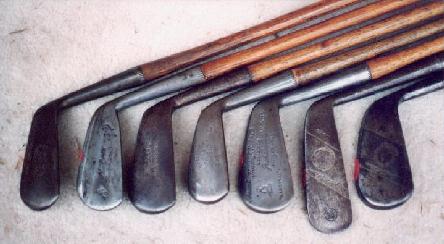 ---
SC = SIGNATURE CLUBS
G-5 = Average condition G-7 = Above Average G-9 = SUPERB
Archived 8/27/1999 - These clubs are no longer available and are here for informational purposes only.
SC 1 DUNCAN, GEORGE: "George Duncan" in script on "The Akros Model Medium Iron" with Wm Gibson's "Star" mark at the toe. Circa 1910-1915 with large punched dots and an off set hosel. G-6+ $70.00
SC 2 HAGEN, WALTER, DETROIT: "L W 9 Putter" and "Stabrite" on a nice blade putter. G-8 $65.
SC 3 JAMES BRAID: "The Braid Special 9" off set blade Putter made by Wilson. Warped original shaft. G-5+ $55.00
SC 4 RAY, TED, OXHEY: A "Non Rust Mashie" stamped "Ted Ray Autograph Model". G-7 $60
SC 5 SPALDING, DYSART, FIFE, SCOTLAND "Cyril Walker, Special" on a circa 1915 shallow face Driver with a black slip held by three wood pegs. Appears all original, but exhibits a lot of play. G-5+ $95.00
SC 6 TED RAY "Ted Ray Autographed model" and "Oxhey G C" on back of a circa 1920's line scored face "Driving Iron". Shaft and grip are originals. G-6 $65.00
SC 7 TED RAY: Winton's "Diamond" mark on a circa 1920 line scored face Niblick stamped "Ted Ray's Own Niblick" and having a "Diamond Back" weighting design. The head has been chromed. The pointed toe head is shaped similar to the "Cannon" patent. Shaft and grip appear original. G-5 $135.00
---
Home | Email Comments / Place Orders | Putters Made In Great Britain | Aluminum Mills Type Mallet Putters | Putters Made In America | Irons Made In Great Britain | Irons Made In America | Sets Of Clubs | Spliced Neck Woods | Anti-Shank Irons | Illegal Deep Groove Irons | Pretty Face Woods | Juvenile Clubs | Brass Head Putters | Signature Clubs | Ladies Clubs | American Socket Woods | Great Britain Socket Woods | Gutta Percha Balls | Bramble Pattern Balls | Odd Pattern Balls | Signature Balls | Mesh Pattern Balls | Misc Ball Related Collectibles | Prints | Misc Golf Collectibles