Get ready for the British Open with this ST. ANDREWS KEEPSAKE: A St. Andrews Millenium British Open keepsake. An "Old Course" Bag Tag, Logo Golf Ball, Ball Marker and Green Repair Tool all with the St. Andrews emblem. 4 items. If purchased separately IN ST. ANDREWS, your cost would be approximately $13. Our price - $12.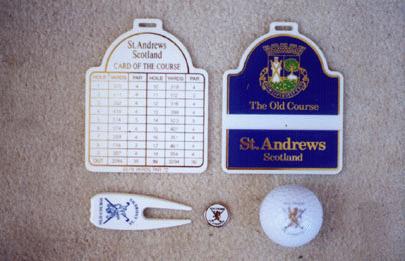 THIS IS A REVIEW OF BRITISH OPEN COURSES
CARNOUSTIE by Ed DeBell The Broadway musical "Brigadoon" is about a small mythical village in Scotland which comes into being for only a few days every one hundred years and then disappears into a shrouded mist for the rest of the time. I am sure there are many golfers who would like this circumstance to prevail when the British Open is played at Carnoustie. Of the eight links courses on the Open rota, Carnoustie is considered the severest test. Gary Player, one of the few golfers who has won all four of the major championships, states unequivocally that Carnoustie is the toughest course anywhere." He should know, because he was the Open champion there in 1968. Other famous golfers regard it as the toughest course in the British Isles when the wind is blowing. The Open was last played there about twenty five years ago, and although that is not quite as long as the one hundred-years of Brigadoon's absence, no doubt there are many Open contenders who wish Carnoustie would not come into being for another twenty-five years. The rest of the time it could disappear into a shrouded mist. Probably one of the reasons the Open has not been played there for twenty- five years is because some observers believe Carnoustie is a better golf course than St. Andrews - which is just a few miles across the Firth of Tay in Fifeshire - and golfing traditionalists do not want that to be known. So the course did not receive the attention it deserved, it became run down, and it needed to be restored to its former grandeur. John Philp, a greenskeeper - no doubt a distant relative of Hugh Philp, the clubmaker - carefully evaluated the course and located new bunkers in strategic places, altered the terrain on some fairways, and reconstructed three of the greens, among other things. But he was making it so tough 'that veteran members wanted no more changes'; they said the course was tough enough - some scarcely recognized it. Robert Burns, Scotland's most reknowned poet, expressed this sentiment well in one of his famous laments: "I've seen sae mony changefu' years, On earth I am a stranger grown; I wander i' the ways o' men, Alike unknowin' an' unknown." As with many of the links courses in Scotland , the origins of Carnoustie are lost in antiquity. The earliest known reference is to "the gowf" being played on the Barry Links - close to Carnoustie on the Northern shores of the Firth of Tay - early in the Sixteenth Century. A club was later founded in 1842 in Carnoustie itself, and by the middle of that century Allan Robertson put in a ten hole course there. This was later extended to eighteen holes by Tom Morris, and in 1926 James Braid installed new tees, greens, and bunkers. There are very few courses which can be said to have no weaknesses, but astute analysts concur this is true of Carnoustie. Every hole on the course is different from all the other holes, and on only one occasion does one hole follow directly upon another in the same direction. The placement of each hole in a direction unlike the previous one creates a situation wherein the wind is never the same. Judging the effect of that wind is a constant challenge to the golfer and at its severest it sometimes necessitates the use of every club in the player's bag. Of great concern are the burns which meander throughout the course. Jockie's Burn must be contented with on 2, 3, 5, and 6; Barry's Burn comes into play on 10, 17, and 18. At almost every location on the course the golfer is challenged with critical decision making. When viewed from above, the Carnoustie Golf Links resemble a slightly unsymmetrical rectangle. Golf writer Bernard Darwin once referred to them as "The Ubiquitous Circumbendibus". The holes seem to go back and forth and hither and yon and if a player doesn't know the course he is likely to spend more time looking for tees than looking at greens. It is the longest course played in the Open, measuring 7361 yards, and at 250 yards the sixteenth - Barry's Burn - a par three, often requires a driver. When he won the Open at Carnoustie, Tom Watson did not par this hole in four rounds. He will attempt to do just that in this year's 128th British Open at Carnoustie. Beginning with the very first hole - Cup - the course offers a continuous challenge. From a slowly rising fairway, a well struck shot is required to hit the hidden basin of a green. Large mounds on the left of that green make the entrance to it extremely narrow. Although Braid's Bunker can be very intimidating at well over 200 yards in the middle of the fairway, long hitters will aim their tee shots to the right of it on the second hole - Gulley. Number Three - Jockie's Burn - is the shortest par four on the course at 342 yards and together with Four and Five the three form a triangle around a thick, dark, quaint forest of fir trees. The Sixth is considered one of the great long holes in golf; at 578 yards it appropriately lives up to its name - Long. Seven - Plantation - takes the golfer to the farthest corner of the course while Eight - Short - imposes a narrow green at 183 yards with gorse in front and traps on either side. Railway is the name of Number Nine, and it features a bunker named for Jack Nicklaus. Fourteen through Eighteen constitute what some observers refer to as "the most exciting finish in Britain." Fourteen is named "Spectacles" because of a large mound just short of the green with two round bunkers on either side; the tendency there is to underclub. Fifteen - Lucky Slap - features a hogback fairway which encourages balls to roll into the numerous traps. Against a strong wind, the tee shot on Seventeen - Island - must be placed accurately between two loops of Barry Burn. The shots on Eighteen - Home - must carry the same burn twice in order to stay on the fairway and reach the green, where the burn is directly in front. At Carnoustie, after all of the game plans have been made, it comes to naught if the playing is less than perfect. Again, Robbie Burns said it well: "The best laid schemes o' mice an' men gang oft a-gley."
PROFILES OF COURSES IN GREAT BRITAIN
St Andrews Links, St Andrews, Fife, Scotland When golfers venture to Scotland, they all want to visit "Mecca" and play the Old Course. Recently the town committee further reduced play by increasing the interval between starting times. Also, the "attached golf clubs" are allotted certain times for play for their members each week. Predictably, the course is full from six in the morning till six in the evening. Unfortunately, slow play is tolerated here and a four-ball game may take four to five hours. The tradition and ancient history of the course make the few drawbacks less noticeable, however. The second oldest golf club (1754) in the world is attached to these public links and, together with the USGA, establishes the rules of the game. The Royal & Ancient also decides where the British Open and Amateur are to be played each year. During the 19th century the game developed into what we know today under the influence of two famous Scottish Professionals, Allan Robertson and Old Tom Morris, both associated with St Andrews. Tom Morris, in 1865, became the first professional golfer to the R & A and, as greenkeeper, was given complete charge of the course. He was provided with one assistant for two days a week and an assortment of tools-a wheelbarrow, a spade and a shovel. Many famous matches have been played over these links, including Allan Robertson's 87 (with a feathery ball) in 1842 and his 79 (with a gutty ball), the first to break 80, in 1858, one year before his death. Allan's 79 stood until Old Tom Morris broke it seven years later. His record, in turn, was broken by Young Tom Morris with a 77 in 1869. Bobby Jones, in his "Grand Slam" year, won the British Open here in 1930, still using hickory shaft clubs, although at that time metal-shafted clubs were permitted. The course itself is interesting and reflects the manner in which many Scottish courses were constructed in the 1800's. Originally, the course was 11 holes. When play increased, new tees were made and the holes were played in reverse for a total of 22 holes. In 1764, the R & A decreed that the course be shortened to 18 holes, which set the standard. The course still has the same design it did in 1842, with all holes except 1, 9, 17 and 18 sharing a common green, one of which claims to be, at one and a half acres, the largest green in the world (No. 5 & 13). The bunkers of the Old Course are also famous as each has a name conveying some interesting story; Principal's Nose, Coffins, the Beardies, Hell, Strath, Cat's Trap, Lion's Mouth, the Grave, and the famous Road bunker, which has destroyed many a professional's round in quest for the Open Championship. One interesting bunker, Deacon Sime, which comes into play on the 3rd and 16th holes, is named after a local preacher who declaired that, upon his death, his ashes be sprinkled in this bunker. He felt that, since he spent so much of his time in this bunker during his lifetime, he might as well spend eternity here also. Everyone who plays, after driving off the 18th, will walk over the 800-year-old Swilcan Burn bridge. This article, and those to follow in a monthly series, are taken from "Complete Guide To The Golf Courses Of Scotland", 1992, by Robert F. Kroeger. Order your book by writing Heritage Communications, 11469 Lippelman RD. Cincinnati., Oh 45242. $19.95 plus $3.50 shipping.
ROYAL LYTHAM AND St. Annes by Ed DeBell Fact: No American professional golfer has ever won the British Open Golf Championship at Royal Lytham and St. Annes. Fact: All of the professional golfers who have won the British Open Golf Championship at Royal Lytham and St. Annes have been foreigners. Fact: The only American golfer who ever won the British Open Championship at Royal Lytham and St. Annes was an amateur. Fiction: The 1996 winner of the British Open Golf Championship at Royal Lytham and St. Anne will be a foreign amateur. I'll tell you why. Truth is stranger than fiction = or so it has been said - so how would you find the truth about the winner of the 1006 British Open Golf Championship? The best way would be to fictionalize the entire proceedings of the 1996 British Open Golf Championship and then create a strange ending. But would the strange ending have the element of truth? The truth is this would be the last chance for an American professional to win "The Open" - as it is called - in the twentieth century at Royal Lytham and St. Annes. This would be the ninth and final time it will have been played there in the 1900's, and the nine muses of art and science will not change their tradition. So, unless an American professional can outplay the many excellent foreign golfers of today, an American will not win it. But what about foreign professionals? They have won there seven times in a row, but if you want to gamble on their winning it an eight time you will probably lose, because - as everybody knows - seven is a lucky number. Finally, since the first winner of "The Open" at Royal Lytham and St. Annes in this century was an amateur - Bobby Jones - it seems likely that the last winner will also be an amateur. That's the way things go. And that brings us to the only possible conclusion in this fictionalized scenario: the winner of "The Open" at Royal Lytham and St. Annes in 1996 will be a foreign amateur. But what do I mean by 'foreign' and what do I mean by 'amateur'? Follow closely and I will expalin. Because the 'I' is really 'me' and the fiction is being written by 'me' - an American - a 'foreigner' would be anyone who is not an American. And, since an 'amateur' would have to be a non-professional who is as good as a professional, an 'amateur' would be exactly that. Not let's try to find this guy. There are many fine young amateur golfers all over the world, some from places well known and some from places not so well known. Some of these places could be Bombay, Sumatra, Tasmania, Acapulco, Montevideo, Capetown, Lisbon, Brodeaux, and ... Lancashire! Yes, Lancashire - the home of Royal Lytham and St. Annes. It is considered "one of England's most difficult championship courses", and you can be sure there are any number of fine young amateur golfers who play the course all of the time. So wouldn't it be logical to assume that a fine young amateur golfer who knows this course intimately would play it better than a good professional who has never before seen it? Of course. And if that fine young amateur golfer had grown up on the course, if he had won any number of tournaments there during his formative years, if he thrived on competition, wouldn't he be the obvious choice to win "The Open"? Who else? Then let us assemble a profile of this fine young amateur golfer and find out why he must be the chosen one. Our Lancashire Lad comes from a very good family: his ancestors settled the Lancashire coast generations ago and established themselves in one of the town's finest businesses. They have been members of Royal Lytham and St. Annes since the early part of the century, and the Lancashire Lad's grandfather was at one time captain of the club. The boy has been playing golf since he could barely hold a club and take a swing, and he is currently a scatch golfer. And there is nothing he would rather do than challange those Royal Links on blustery days when the wind is blowing and the rain is threatening. This boy is a golfer. But let us take a closer look at the Lancashire Lad's course, the tournament that will be played there, and some of those who have gone before. Royal Lytham and St. Annes is the most northerly of the "great line of golf courses" which run along the Lancashire Coast at the edge of the Irish Sea, the others being Hoylake, Formby, and Royal Birkdale. The eighteen holes were first laid out in 1897, and George Lowe was the designer of the original course on the present site. Architects Harry Colt and Herbert Fowler have made revisions to the course which have somewhat changed its character from a pure seaside links to that of a parkland type course - but not very much. The present clubhouse was built in 1903 and is referred to as the Dormy House. Some of the idiosyncracies of the course are a par three first, two consecutive par fives, and inevitable trouble for the golfer unless the weather is particularly benign. The championship length measures 6857 yards, and a few of those champions are Bobby Jones, Bobby Locke, Peter Thompson, Gary Player, and Seve Ballesteros. The first British Open was not an 'open' but a 'closed'. Only professionals were invited, and of the handful that participated, few were able to score anywhere near par. They played three rounds in 1860 over the twelve holes of the Prestwick Links and Willie Park won the championship belt with a score of 174. The silver claret jug - golf's most famous trophy - was not awarded until 1872, when it became the prized possession of Young Tom Morris. By the end of the nineteenth century, the tournament was dominated by the "Great Triumvirate" of Harry Vardon, James Braid, and J. H. Taylor, all three together having won the old claret jug sixteen times between 1894 and 1914. By that time the tournament was growing in stature and fourteen 'venues' were staging "The Open". Currently there are seven sites as well as Royal Lytham: St. Andrews, Muirfield, St. Georges, Birkdale, Troon, Carnoustie, and Turnberry. All are genuine links courses - or nearly so - streched across sandy, undulating terrain close to the sea. Factors to contend with are stange bounces, tangling rough, slow greens, and unpredictable weather. The fans at the tournaments are dedicated golfers, and they come to watch and to learn. "The Open" has almost always drawn huge crowds. And the expertise of the winners of "the Open" has always been of the highest quality. A list of champions would include most of the great names in golf. But as in all forms of human endeavor, occasionally an unknown will come to the fore. And that unknown could be the fine young amateur golfer we have been writing about. So, let's take a trip to Royal Lytham and St. Annes, talk to some of the knowledgeable members, and find out who the Lancashire Lad really is. After all, he might very well be the next British Open Golf Champion. Profiles of Courses in Great Britain Royal St. George's, Sandwich, England. Royal St. George's, was established in 1887 in Sandwich, Kent, CT12 9PB. Its 6857 yard par 70 course will be the site of the 1993 British Open Championship during the third week in July. During the week preceeding the Open, Christie's, Phillips and Sotheby's have scheduled auctions. Christie's on July 9th, at their St James Place offices in London, Sotheby's July 12th in Canterbury, and Phillips July 13 at Ramsgate will hold major golf auctions which present an opportunity for you the collector and golf fan to attend the Open and auctions for the price of one round trip airfare. Two miles east of Sandwich, this grand seaside links was the first course outside Scotland to host a British Open (in 1894, won by J H Taylor). Another historic moment happened when, in the 1904 British Amateur held here, middle-aged American, Walter Travis became the first foreigner to win this prestigious event. After Travis won with his center shafted Schenectady putter, the R & A, feeling cheated, ruled his uncanny club illegal. Also at Sandwich, in the 1922 British Open, Walter Hagen became the first American winner. (Ed. note: Travis was usually 30 to 60 yards shorter off the tee than his opponents, and as a result, relied on his superb ability with the putter to win his matches. The R & A was so furious having this "elderly" short hitting AMERICAN beat British golfing heros Harold Hilton, Horace Hutchinson and Edward Blackwell, using a newly patented American Schenectady putter, they tried to save embarrasment by ruling the center shafted putter illegal, claming it gave him unfair advantage on the putting greens. It wasn't until 1952 until the R & A lifted the ban on the center shafted putter). In 1887, Dr. Laidlaw Purves, a member of the Royal Wimbledon and Royal Blackheath golf clubs, noticed a tract of ground at Sandwich and, with a golfer's eye created a golf links. He assembled fifty gentlemen who formed an association and leased the land. Dr. Purves then designed the course. Ramsay Hunter (designer of Royal Porthcawl) was appointed greenkeeper and developed the course into a championship links. Dr. Purves' golfing eye discovered a fine gem nestled among the ever changing sand hills, dunes, and hollows of this desolate stretch of beach facing Pegwell Bay and the white cliffs of Ramsgate. His course remained untouched until 1975, when golf architect Frank Pennink altered some holes. Now the longer course is a full-blooded test of courage, especially in a wind or gale, which have menaced several tournaments here. The famous "Maiden" sandhill comes into sight near the 6th hole, and other old trademarks, such as the "Suez Canal", a burn strategically crossing the 14th fairway, are still present. Playing this course is as good a golfing challenge as England has to offer. This article, and those to follow in a monthly series, are taken from "Complete Guide to the Golf Courses of Scotland", 1992 by Robert F. Kroeger. Order your book by writing Heritage Communications, 11469 Lippelman Rd, Cincinnati, OH. 45242. $19.95 plus $3.50 shipping.
ROYAL BIRKDALE by Ed De Bell I have often wondered why - when the conscious mind reflects upon situations past - some of those events which occurred just a few days ago are almost impossible to remember, whereas other events which took place at an inordinate length of time in the past seem to have happened just a few days ago. Could this be some sort of time warp, or a case of mental inversion, or simply a natural subconscious phenomenon wherein we retain what is impressive and reject that which is not? One particular situation which I recall almost vividly was a visit which my brother and I made to one of my mother's dearest friends in our old home town. We were barely six or seven years old then, but the circumstances were so unusual that the perceptions gained at that time have remained with me ever since. I can close my eyes and again see myself in those surroundings. The lady my mother took us to see lived in a very nice old house situated next of a large park which had a big beautiful lawn on it. I vaguely remember that on certain occasions peple with crooked sticks would be rolling what looked like little round stones back and forth and all around on that lawn and sometimes losing them in gopher holes.... or so it seemed to me. ( I later learned that they were golfers on a practice putting green.) But, inside the house, everything was English: the furnishings, the pictures on the wall, the chinaware set for tea, the biscuits ready to eat, and of course the woman who lived there. She was rather elderly, she dressed very eccentrically, and had a pronounced English accent, and her name was Flora. But the thing I remember most about her was that she was from Lancashire: she was the only person I have ever met from Lancashire; she was the archetypal prototype of Lancashire; she exuded everything which is indigenous to Lancashire; to be in her presence was to be in Lancashire. And I guess that is why I have never really forgotten her. She had one of the most unique and memorable personalities I have ever been exposed to. If she left me nothing else, she certainly left me with a little bit of Lancashire. And those who venture forth this Summer with their crooked sticks and little round stones to the British Open at Royal Birkdale will get a lot more than just a little bit of Lancashire. They will be playing a course in the "....great line of golf courses (which stretches) along the edge of the Irish Sea (and) begins with Hoylake (The Royal Liverpool Golf Club) and is strung out Northward along the Lancashire Coast...." and includes Formby, Royal Lytham and St. Annes, and ultimately Royal Birkdale (what else?). This links at Southport, Lancashire, has been described as a "superb seaside course....one of a group of fine courses set among the large sand dunes that dominate the landscape along much of the coast of Lancashire." A former winner of the British Open at Royal Birkdale once described it as "mansized but not a monster." It is a real championship challenge. It has been, since the middle forties, the most significant site for tournaments in England, having hosted almost three dozen national and international championships and matches. It is a club with a long history, having existed for over one hundred years. And it is a particularly formidable layout because of the stick rough and willow scrub which grows all over the course. Many golfers claim that the scrub is "more punitiv than heather and just as unyielding as gorse." Could there be any doubt that this is not an easy course? George Low is the architect who created the direction of the golfer's journey among the dunes and dips that prevail along this strip of the coast of Lancashire. He threaded the fairways through the alleys between the giant sandhills instead of going over them, thereby giving the terrain the character of an inland course along with its links personality. Among the bunkers and knolls which abound on the course are many hollows with "dead ground" in them which force the golfer to play bold shots. At Royal Birkdale, a golfer must know when to play it safe and when to go for it. The Royal Birkdale course measures 6932 yards from the champions' tees and registers a par of 70. The longest hole is the seventeenth at 525 yards and the shortest hole is the seventh at 154 yards. Among those who have won "The Open" at Royal Birkdale are Peter Thomson, Arnold Palmer, Lee Trevino, Johnny Miller, and Tom Watson. This year will see the 127th playing of the British Open, a championship which was proposed in 1856 but did not actually take place until 1860. It is golf's oldest and most prestigious championship, the first event consisting of three rounds of twelve holes played over the Prestwick Links in Ayrshire, Scotland. The original trophy was the Championship Belt which was first won by Willie Park. This was later superseded by the well known claret jug. In addition to Park, other winners of "The Open" have been Tom Morris, Willie Fernie, John Ball, Harold Hilton, J. H. Taylor, Harry Vardon, James Braid, Sandy Herd, Ted Ray, and also many reknowned players of the later eras. Probably the most well remembered tournament ever played at Royal Birkdale was the British Open in 1961, when Arnold Palmer played a shot which won him the trophy and won "The Open" the prestige it so well deserves. On the fifteenth hole - which is now the sixteenth - Palmer had driven into the rough and his ball stopped under a bush short of the green. In his typical swashbuckling style he grabbed a club, took a tremendous thrash at the ball, and lifted it over gaping bunkers and onto the green. It was a typical example of Arnold Palmer's unforgettable personality. And, in keeping with my mother's ladyfriend from Lancashire, Royal Birkdale has one the most unique and memorable personalities any golfer could hope for: it is truly unforgettable. I think that the impressions gathered there by a player would be retained for all of his golfing life.
1-800-882-4825 (Orders Only)
We accept Visa and Mastercard for your convenience.
---
Antique Golf Collectibles, A Price and Reference Guide.

Post Paid $30.00*

1997, by Chuck Furjanic. Prices for Average, Above Average and Superb pricing for golf clubs, balls, books, ceramics and all other golf collectibles. Signed by the author.

Click the cover to see it closeup!
Or, go to the Books page.
Home | Email Comments / Place Orders | Display Racks | Books | Putters Made In Great Britain | Aluminum Mills Type Mallet Putters | Putters Made In America | Irons Made In Great Britain | Irons Made In America | Sets Of Clubs | Spliced Neck Woods | Anti-Shank Irons | Illegal Deep Groove Irons | Pretty Face Woods | Juvenile Clubs | Brass Head Putters | Signature Clubs | Ladies Clubs | American Socket Woods | Great Britain Socket Woods | Gutta Percha Balls | Bramble Pattern Balls | Odd Pattern Balls | Signature Balls | Mesh Pattern Balls | Misc Ball Related Collectibles | Prints | Misc Golf Collectibles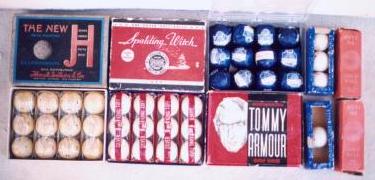 Visitor # since April 27, 1998!
Copyright 1998 All Rights Reserved