. . . Brought to you by Chuck Furjanic's Golf Collectibles, Irving, Texas -- the publisher of the ONLY monthly catalogue for the antique Golf Club Collector. Golf For All Ages brings this incredible listing of antique Golf Clubs & Golf Collectibles to the World Wide Web! Would you like a FREE Catalogue?

Check out the latest catalogue


Color Pictures!
View my eBay Auctions | Check out our the latest offerings in leather regripping supplies!
Please take your time and look through the links at the left. There are many different categories of antique Golf Clubs & Golf Collectibles listed. Please email any comments or questions. To place orders for items on this website or to subscribe to our monthly catalogue, email or call us Toll Free 9AM to 10PM Daily
1-214-377-8421
We accept Visa and Mastercard for your convenience. You can also pay on the web through PayPal! Check it out. Get $5 Free for a limited time. No strings attached!
---
The Revised 2nd Edition of Antique Golf Collectibles, A Price and Reference Guide.

Post Paid $30.00*

There are several new chapters, an Index, hundreds photos and price revisions in all collectible areas.

Click the cover to see it closeup!
Or, go to the Books page.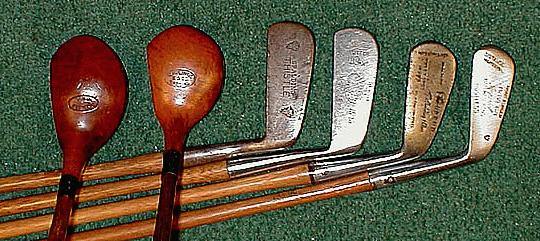 Antique Wood Shaft clubs are a moderately priced alternative and make an unique gift.
Antique Wood Shaft Putters $55.00
Antique Wood Shaft Irons $45.00
Antique Wood Shaft Woods $95.00
Set of three Antique Wood Shaft Putter, Iron and Wood. $189.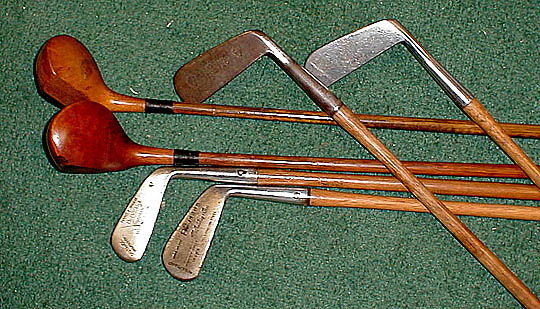 All clubs are in stock and we ship within 24 hours of receipt of the order and payment
Call 1-214-377-8421 to make shipping and payment arrangements-or- if you have any questions.

---
Monthly Catalogue

The monthly catalogue contains many pictures of golf clubs and golf collectibles. It also contains numerous books for sale, antique golf club refinishing supplies, news of upcoming auctions, and interesting stories about golf. Check out the offerings from the current catalogue online now!
Subscription Rate: $25 per year
Single Issue: $3
---
We have tried to list as much of our inventory as possible, but many items are one of a kind and our inventory is constantly changing. If you don't see it here, let us know -- we may have it hidden somewhere!

All of the antique Golf Clubs listed on this website are rare. We also have an extensive collection of "common" antique golf clubs. It has been estimated that only about 5% or 1 in 25 antique golf clubs are collectible. If you have a need for some less expensive "common" antique golf clubs for wall hangers, museum displays or to use in a Hickory Shaft Golf Club Tournament, let us know.

We also buy (or trade) all kinds of golf collectibles. Please contact us for shipping information.

Thank You!

Home | Email Comments / Place Orders | Display Racks | Books | Putters Made In Great Britain | Aluminum Mills Type Mallet Putters | Putters Made In America | Irons Made In Great Britain | Irons Made In America | Sets Of Clubs | Spliced Neck Woods | Anti-Shank Irons | Illegal Deep Groove Irons | Pretty Face Woods | Juvenile Clubs | Brass Head Putters | Signature Clubs | Ladies Clubs | American Socket Woods | Great Britain Socket Woods | Gutta Percha Balls | Bramble Pattern Balls | Odd Pattern Balls | Signature Balls | Mesh Pattern Balls | Misc Ball Related Collectibles | Prints | Misc Golf Collectibles


Copyright 1998 All Rights Reserved
#1 Free Stuff - A fantastic collection of free stuff and freebies. Categories include Health and Beauty, Freeware, Screensavers, and more!