Wooden Shaft Golf Clubs and Collectibles, Antique Golf Balls and Golf Collectables.

Archived 4/12/01 (Listed for informational purposes only) -- Catalogue #136!!

136....1... A VIRTUALLY MINT ANDERSON LONG NOSE type Putter c-1910-20 made in Forgan's President style. "D Anderson & Sons, St.Andrews" on the Persimmon head. A really nice collectible putter. G-9 $700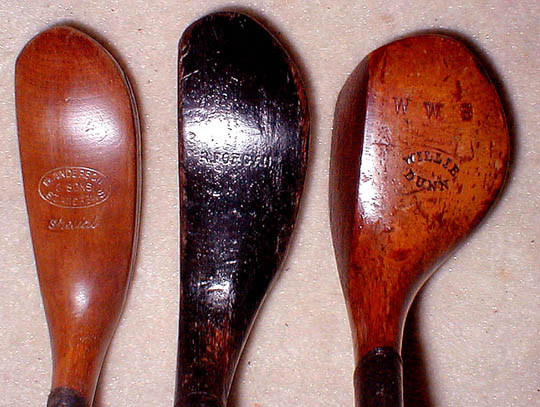 136....2... A SCARCE FORGAN DRIVING PUTTER with the "Plume" mark below "R Forgan" on the dark stained Beech head. This circa 1885-90 scarcity exhibits a large head and huge lead back weight allowing the player to stroke long accurate putts over the vast greens at St. Andrews. Splice whippings, stamped shaft and sheep skin grip look original. A nice example. G-7+ $1750
136...3.... A PER WHIT PUTTER with hollowed out back and rounded face making a cylindrical conves face. Hendry & Bishop's, "Bishop's Hat" at the toe in the hollowed out back. Shaft is a well done replacement. G-7 $700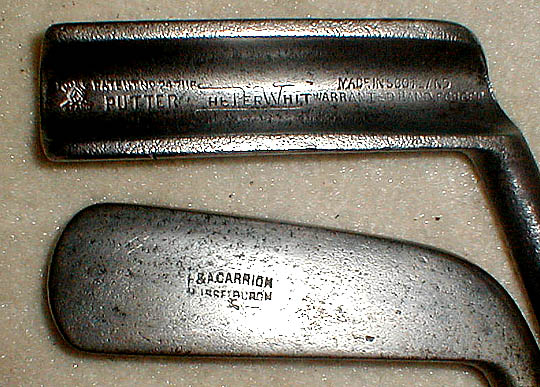 136....4... A GOOD CARRICK CLEEK with a FULL "F & A Carrick, Musselburgh" stamp above the "Cross" mark. The hosel has short heavy nicking and the shaft is a replacement. G-7+ $1150
136....5... A WM PARK TRUE RUT IRON c-1885-90 with the top of blade and hosel join squared. The tiny head has no visible stampings, however, the shaft is clearly stamped "Wm Park" below a nice sheep skin grip. G-6+ $1450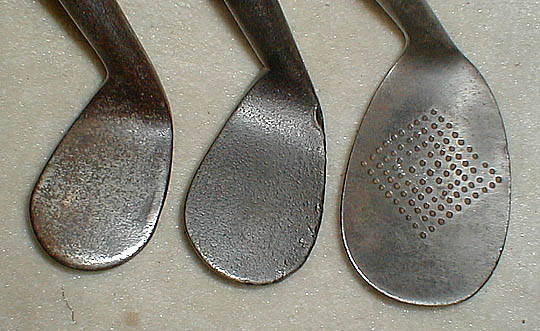 136....6... A GOOD TRUE RUT IRON c-1880-1885 with the top of blade and hosel join sharply squared. No stampings visible on the back, indicating this may be a Blacksmith made head. The hosel PIN is placed 45 degrees between the normal position and the top of the hosel, which has saw tooth nicking. Grip is a nice old sheep skin. G-7 $750
136....7... A SUPERB CONCAVE FACE SAND IRON similar to the Skoogie and Hagen. This example has a Circle mark with crossed clubs and "Supreme" and "Warranted Hand Forged on the sole, which has a hollowed out cavity running from heel to toe. The ice cream scoop dished face has dots punched in the form of a DIAMOND. A neat club to put beside your Hagen! G-9 $1450
136....8... AN OUTSTANDING WILLIE DUNN BRASSIE c-1898-1900 with "Willie Dunn" in large block letters on the deep face head. Splice whippings look original and the grip is a replacement. Exhibits very little evidence of play. One of the nicer Dunn woods available to collectors. G-8 $475
136....9... A circa 1840-60 FEATHER BALL with 80% of the original remaining paint faded to a creamy gray color. No name or size visibile on the cover. About five stitches have come loose exposing some of the feathers and giving the ball a small clam effect. Still, a very desirable collectible as the ball overall is above average save for the broken stitches. $3950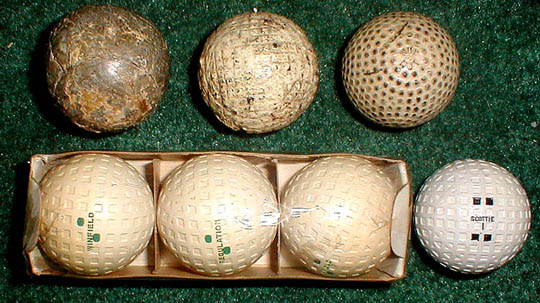 136....10... A line cut guttie ball c-1900 that has been repainted many years ago with too much paint. G-3 $75
136....11... A nice example of Henley's "Why Not" small size Bramble c-1915. "Why Not" at both poles. One small iron mark near the pole keeps this from the outstanding class. Still a nice ball. G-6+ $175
136....12... THREE MINT MESH BALLS IN ORIGINAL SLEEVE with "Winfield" and "Regulation" on each pole in green on all three balls. G-10 $750
136....13... A MINT Mesh pattern ball with "Scottie" at one pole and "England" with four black identification panels. A few minor blemishes keep this from the superb mint class. G-9 $190
136....14... Circa 1930's Mesh Golf Ball Mold without a name. 90% did not have names. Circa 1950's Dimple Golf Ball Mold without a name. 90% did not have names. $275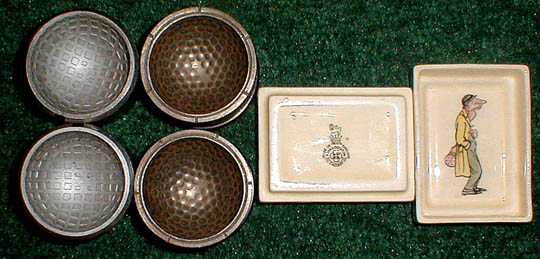 136...15.... Circa 1950's Dimple Golf Ball Mold without a name. 90% did not have names. $175
136....16... Two ceramic salt dishes, 2" X 3", with colorful figures. The "Royal Doulton" stamp is on the bottom of both. Mint. $250
136...17.... A stoneware litre mug by Dartmouth, although this one is not stamped. Gold in color with golfers and golf course/green in relief. Several chips from the bottom. $30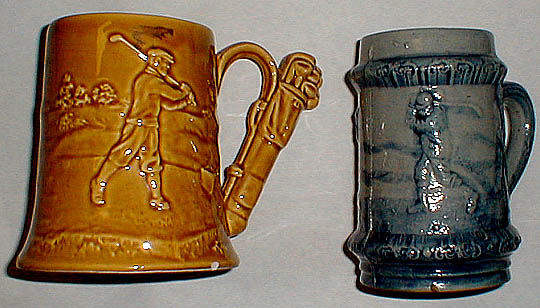 136....18... A stoneware half litre mug exactly like #145 Sprung, p-46. Blue and gray in color with four golfers in relief. No stampings on the bottom. Mint. $175
136....19... An English Pewter Whiskey Flask made to commemorate the 2000 British Open at St. Andrews. Engraved are the layout of the course, card of the course and past champions at St. Andrews. In green velveteen box. $90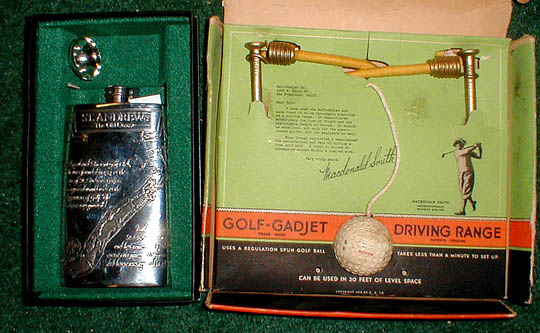 136....20... A Mint new, in original box, "Golf-Gadjet Driving Range" practice device c-1930 with two spikes, and a tethered "Demon" mesh golf ball. Endorsed by MacDonald Smith. $190
136....21... MASTERS GRILL ROOM PLAYING CARDS. Double deck box exclusively used in the grill room. One green deck and the other white. Both have the Masters Logo. MINT! $120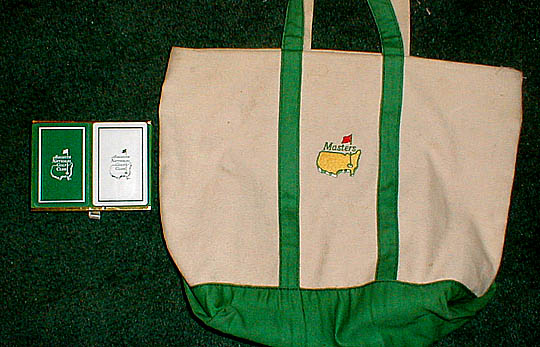 136....22... A carry bag with the "Masters" emblem. Heavy duck canvas in cream and green. 15" X 10" X 8". Very nice! $75
136....23... A COPPER BROACH/PIN circa 1900 with a relief figure of a lady with golf club. Similar piece was in McGrath's 1995 sale, lot 285 bringing $467. $250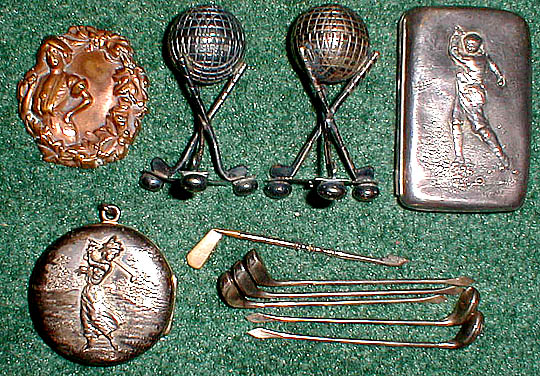 136....24... SCARCE STERLING SALT & PEPPER set of two Line Cut Gutta Percha Balls which are mounted on three golf clubs and a base. "St.Andrews, Scotland" is engraved on the Salt's base. A great collectible! $500
136....25... A SMALL STERLING CASE with knickered golfer in relief on the top. Apparently used for cigarettes, however it would hold only about ten. 4" X 2 1/2 in size and quite a nice collectible. $450
136....26... A small round Sterling Silver case that is approximately 2 1/2" in diameter with a c-1900 Gibson Girl type lady golfer on the lid. An extraordinary powder case, one of the first I've seen of this type and is a significant Turn-Of-The-Century collectible. Free of dents and scratches, just a nice silver patination. $600
136....27... SIX INTERESTING STERLING ITEMS including a manicure tool with brass putter head and five Drivers designed to be used with Hors D'oeuver . (6) $350

Click for Leather Gripping Supplies
Sand Tee Molds! Email for info
Celebrate the 2000 British Open with this ST. ANDREWS KEEPSAKE: A St. Andrews Millenium British Open keepsake. An "Old Course" Bag Tag, Logo Golf Ball, Ball Marker and Green Repair Tool all with the St. Andrews emblem. 4 items. If purchased separately IN ST. ANDREWS, your cost would be approximately $13. Our price - $12.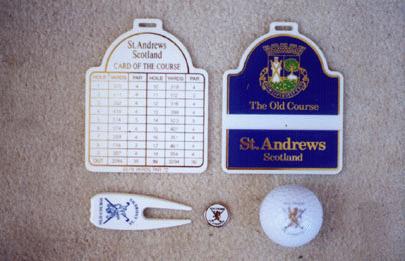 1-800-882-4825
Home | Email Comments / Place Orders | Display Racks | Books | Putters Made In Great Britain | Aluminum Mills Type Mallet Putters | Putters Made In America | Irons Made In Great Britain | Irons Made In America | Sets Of Clubs | Spliced Neck Woods | Anti-Shank Irons | Illegal Deep Groove Irons | Pretty Face Woods | Juvenile Clubs | Brass Head Putters | Signature Clubs | Ladies Clubs | American Socket Woods | Great Britain Socket Woods | Gutta Percha Balls | Bramble Pattern Balls | Odd Pattern Balls | Signature Balls | Mesh Pattern Balls | Misc Ball Related Collectibles | Prints | Misc Golf Collectibles

Antique golf, Antique gifts, Scottish golf, Golf memorabilia, Golf Ephemera, golf artifacts, Scotland, St Andrews, Masters memorabilia, decorating
Gifts for the Golfer! Golf Gifts. Wooden Shaft Golf Clubs and Collectibles, Antique Golf Balls and golf collectables.