SETS OF CLUBS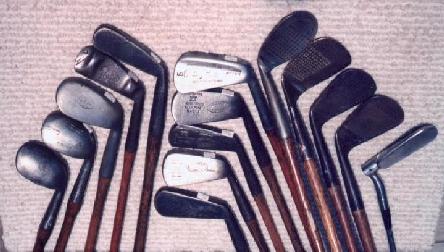 ---
SET = SETS OF CLUBS
G-5 = Average condition G-7 = Above Average G-9 = SUPERB
Archived 8/27/1999 - These clubs are no longer available and are here for informational purposes only.
ADD 75 DRUMMOND, A, MORTONHALL: Two matching two tone head woods circa late 1920's that would go well with the Stainless set of irons. "A Drummond" on the heads of a Driver and Spoon, both all original. G-7 $195.
ADD 76 MACGREGOR, DAYTON, OH: A set of ladies "Macgregor Duralite" irons and #10 Putter all in Near Mint, all original condition. #2 Mid-iron, 4 Mashie-iron, 5 Mashie, 6 Mashie-niblick and 9 Niblick. Two steel shafted Pretty Face woods, "Brassie" and "Cleek" were with the set. 8 clubs total. Irons & Putter are all G-9, woods, G-8. $390
ADD 77 VARIOUS MAKERS: A set of Stainless Steel, hickory shafted clubs in near mint condition. This set was put together circa 1930 and consists of clubs made by Forgan: "Criterion" #9 Putter, 3 Iron and 5 Iron; a "Buffalo #1 Iron" by "F H Ayres" and four by William Gibson. "G" inside a "Star" on the "X Y Z 2 Iron", #6 & 7 MAXWELL HOSEL flanged back pitching irons and a "Superior Jigger". The last three having a "Star" stamped into the shaft. An outstanding display set! Overall condition is G-8++ $650.
SET 1 BRADLEY, W J, PRESIDIO, CALIFORNIA: Circa 1915 set of three woods, Driver, Brassie & Spoon and a smooth face iron similar to a Sammy with 4 iron loft and rounded back and sole all stamped "W J Bradley". G-6 to7 $350.
SET 2 HAGEN, WALTER, DETROIT: A nice all original display set of "Hagen Getaway" Driver, Mid-iron, Mashie, Mashie-niblick and Niblick. Four of the five clubs have partial or full shaft stickers. G-7 to G-8 $275
SET 3 MACGREGOR, DAYTON, OH: A virtually MINT NEW partial set of "Popular" 10X Putter, 2 Mid-iron, 5 Mashie and 6 Mashie-niblick. They show only the slightest evidence of play. Most would call them Mint! Rarely offered this nice. G-9+ $450.
SET 4 WINTON, W & CO, LT'D, MONTROSE, SCOTLAND: A partial set of three nice clubs. Winton's "Diamond" maker's mark is on the "Spieler Niblick" G-8, and Mashie G-8. The third club is a Brassie, G-7. $250
---
Home | Email Comments / Place Orders | Putters Made In Great Britain | Aluminum Mills Type Mallet Putters | Putters Made In America | Irons Made In Great Britain | Irons Made In America | Sets Of Clubs | Spliced Neck Woods | Anti-Shank Irons | Illegal Deep Groove Irons | Pretty Face Woods | Juvenile Clubs | Brass Head Putters | Signature Clubs | Ladies Clubs | American Socket Woods | Great Britain Socket Woods | Gutta Percha Balls | Bramble Pattern Balls | Odd Pattern Balls | Signature Balls | Mesh Pattern Balls | Misc Ball Related Collectibles | Prints | Misc Golf Collectibles