. . . Brought to you by Chuck Furjanic's Golf Collectibles, Irving, Texas . . .
Golfer's Dream Vacation Rental Property in Tucson, Arizona

---
New 3rd Edition, 464 pages with new chapters, more photos and updated pricing.

Internet Special: $25.00 - Shipped FREE in the USA!
Call 1-214-377-8421 if you have any questions.
Or send an email

This is a secure Paypal shopping cart. You do not need a Paypal account - you can pay with a debit or credit card.




NEW! TIGER WOODS CHAPTER. 48 pages of collectibles, photos and pricing.

Expanded wood shaft club chapter with 20 new clubmakers, more pictures and revised pricing.

Expanded color section...32 pages of all new photos.Expanded color section...32 pages of all new photos.




---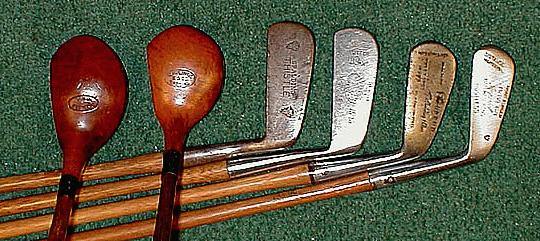 Antique Wood Shaft clubs are a moderately priced alternative and make a unique gift.

Antique Wood Shaft Putters - FREE SHIPPING IN THE USA $59.00 each



Antique Wood Shaft Irons - FREE SHIPPING IN THE USA $49.00 each

Antique Wood Shaft Woods - FREE SHIPPING IN THE USA $99.00 each

Set of three Antique Wood Shaft Putter, Iron and Wood. - FREE SHIPPING IN THE USA $199.00 per set

This is a secure Paypal shopping cart. You do not need a Paypal account - you can pay with a debit or credit card.

All clubs are in stock and we ship within 24 hours of receipt of the order and payment.

Call 1-214-377-8421 if you have any questions.
Or send an email

Relive the movie "The Legend of Bagger Vance" and play with HICKORIES.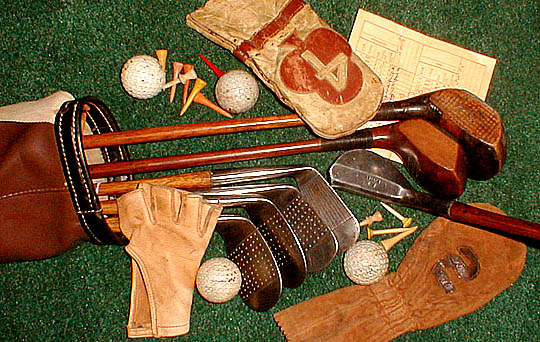 We have a good stock of "tested" playable clubs for your golfing pleasure. Chuck Furjanic, former World Senior Hickory Champion, has selected, re-gripped, strengthened and "Hit" the woods, irons and putters to make sure they are playable. Woods $150.ea, Irons $60.ea., Putters $60.ea. The "Jigger" is $95. Set of two woods, 4 irons, and a putter, $550. delivered. Keep in mind Francis Ouimet defeated the great Harry Vardon and Ted Ray in the historic 1913 US Open played at Brookline playing with only seven clubs! Also, see my short story on hickory play, "Fun On The Links".
Chuck can "FIT" your set if you provide the following: How far do you hit your Driver, no roll just carry, and how far do you hit your #5 iron?. Are your Steel/Graphite shafts Stiff, Regular of Whippy? Do you prefer a blade, mussell back and do you like a straight or offset hosel putter? Mallet, brass, and center shafted putters prices on request.
Please take your time and look through the links at the left. There are many different categories of Wooden Shaft Golf Clubs & Golf Collectibles listed. Please email any comments or questions. To place orders for items on this website or to subscribe to our monthly catalogue, email or call us Toll Free 9AM to 10PM Daily
1-214-377-8421
---
We have tried to list as much of our inventory as possible, but many items are one of a kind and our inventory is constantly changing. If you don't see it here, let us know -- we may have it hidden somewhere!

All of the Wooden Shaft Golf Clubs listed on this website are rare. We also have an extensive collection of "common" wooden shaft golf clubs. It has been estimated that only about 5% or 1 in 25 wooden shaft golf clubs are collectible. If you have a need for some less expensive "common" wooden shaft golf clubs for wall hangers, museum displays or to use in a Hickory Shaft Golf Club Tournament, let us know.

We also buy (or trade) all kinds of golf collectibles. Please contact us for shipping information.

Thank You!

Home | Email Comments / Place Orders | Display Racks | Books | Putters Made In Great Britain | Aluminum Mills Type Mallet Putters | Putters Made In America | Irons Made In Great Britain | Irons Made In America | Sets Of Clubs | Spliced Neck Woods | Anti-Shank Irons | Illegal Deep Groove Irons | Pretty Face Woods | Juvenile Clubs | Brass Head Putters | Signature Clubs | Ladies Clubs | American Socket Woods | Great Britain Socket Woods | Gutta Percha Balls | Bramble Pattern Balls | Odd Pattern Balls | Signature Balls | Mesh Pattern Balls | Misc Ball Related Collectibles | Prints | Misc Golf Collectibles


Terms of use Copyright 1998 All Rights Reserved
#1 Free Stuff - A fantastic collection of free stuff and freebies. Categories include Health and Beauty, Freeware, Screensavers, and more!
Buy Tickets http://www.buyselltix.com/
Buy Golf Tickets http://www.buyselltix.com/golf/
Buy Yankees Tickets http://www.buyselltix.com/mlb/yankees.php
Buy NASCAR Tickets http://www.buyselltix.com/nascar/
FUN ON THE LINKS
by Chuck Furjanic
Undoubtedly you have heard of Harry Vardon, Bobby Jones, Walter Hagen, Gene Sarazen and maybe Tom Morris or Willie Park. Before legalization of metal shafted clubs in America for the 1926 season, and 1930 in Great Britain, these golf champions of bygone years played with clubs made of hickory, ash, lemonwood, lancewood, greenheart or dangawood.
Today Tiger Woods, Fred Couples, Jack Nicklaus, Brad Faxon and Joe Duffer play with the latest and most technologically advanced titanium, graphite, oversized . . . on and on and $$$ and $$$!
GOLF IS NOT FUN ANYMORE!!!
Golf has evolved into a mega million dollar promotion deal; $565 drivers, $245 wedges, $450 putters, and $300 for the privilege to hit your ball in the rocks on #8 at Pebble Beach! Gigantic green fees, titanium inserts, titanium heads, titanium shafts, titianium center balls, TITANIUM HEADACHES!!!
What happened to FUN on the links?
Have you ever wondered what it would be like to play golf BEFORE you needed to win the lottery, or own 5,000 shares of IBM to afford one round at Pebble Beach or a set of Titanium woods?
When was the last time you actually FELT the club strike the ball with a little hook spin to get back to the left pin behind the bunker; or hit a low running approach shot to the second level fifty-five yards away? (hey, I paid $245 for that lob wedge, why should I 'run' the ball in?) When was the last time you hit the high 'feathered' shot with the wind or a low boring hook into it? With today's $4,000. set of high-tech clubs you feel embarrassed to 'be a shot maker', or to 'work' the ball. It seems like every club today is designed for Joe Duffer to hit straighter than a laser and longer than John Daly playing down wind!
With my Mashie-niblick I am able hit a low running draw 145 yards, a feathered cut 110 yards, or hit it 130 yards with normal trajectory. I also can use it to pitch and run a shot forty or fifty yards to the green's second level. I actually FEEL the head as it releases at impact and literally FEEL the ball as it is struck and has the spin "I" put on it to draw, fade, be a low riser or high floater. My Jigger can loft a ball as high as a lob wedge to a green up to 150 yards away and also be used around the green to hit chips that run like a putt. My Niblick can slice the ball from those dreaded sand traps, chop it out of the thick rough, or spin the dimples off it from a good lie in the fairway ninety yards from the pin.
I'm talking about hitting seventy-five to one hundred year old HICKORY SHAFTED clubs with wrapped leather grips, dot punched, hyphen or deep groove scored faces. Clubs Francis Ouimet beat Vardon and Ray with in 1913...He carried a grand total of seven! Woods, with real persimmon heads, that go 'swoooosh' and 'whaaaak'; and a putter, with a head made of aluminum, brass or forged steel enabling me to cut a five foot putt into the cross grain to keep it on line.
I'm talking about playing with clubs that are virtually an extention of my hands, arms and shoulders, not my credit card!
No, you don't need to be a +2 handicap and a corporate CEO with 37 platinum credit cards to do these things with a 90 compression balata golf ball. All you need is a desire to have fun on the golf course, and the help of someone who knows how to make up a "Play Set". My personal "set" is comprised of 2 Brassies (2 wood), one for play, the other a spare; a Mid-iron (3 iron), Mashie (5 iron), Jigger (chipper and 'sky-iron' for hitting high 130 to 150 yard shots), Mashie-niblick (8 iron), Niblick (wedge) and a Putter. The irons and putter cost is minimal and the woods... well...they are a lot less that those high tech oversized titanium headache you don't have to buy. Think about it!